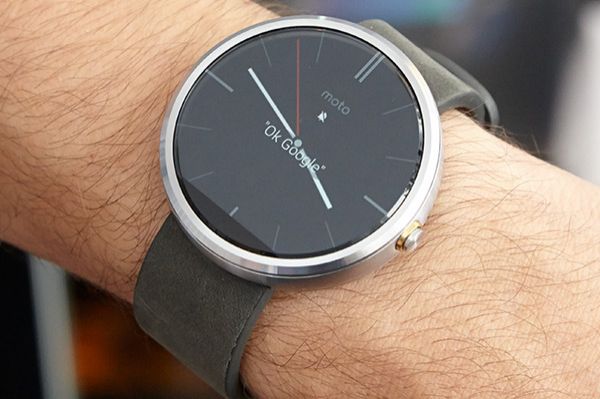 Almost a year ago People began salivating at the prospect at the idea of Android Wear, announced at google I/O this announcement also came with a trailer showing off a few different watches that would support the platform.   LG had a square faced watch much like what we have seen from Sony, Pebble and Samsung the true start of the show was the Moto 360 a Smartwatch with a round design and premium quality watch parts.  It was classic style design, single plunger and stainless steel round body on leather or metal strap, with sapphire glass.  It received a ton of notice and quite a following but with deliver of the device set to sometime in Summer 2014 it was a waiting game to get my hands on it.
At the time I was using a Gear neo 2 which I had received from Rogers for $50 when I upgraded my S4 to an S5.  I did normally wear a watch but not in the traditional sense my last watch was a 7RON from Kansai if you not familiar with them they sell odd and interesting time pieces that usually require instruction on how to read them.  Since my 7RON charging screw was stuck in the watch and I was being lazy I grabbed the Gear 2 Neo it was pretty good apps on the it where mostly useless but I normally used it for voice commands and to answer calls when my hands were full and it did that just fine.
Summer finally comes and with it does not come the Moto 360 they missed their initial release and ended up in the fall but sadly with a US only release and with some changes the most notable being that the Screen is not perfectly round at the bottom (or top if your lefty) is a small black bar on the screen that houses ambient light sensors as well the sapphire glass was replaced with Gorilla glass 3.  Much to my dismay here in Canada.  But this may have been a blessing in disguise.  Reports where coming in at the time about the poor battery life of the watch as well as slowness and general unhappiness of consumer stating that they have taken it back after a day.  Finally in late November it starts showing up Canada but only specific stores those being Telus and Future shop neither of which had stock in my area or online. So again I waited finally in December I got my moto 360 from my Girlfriend of Xmas. 
So Now that I have spent about a month and half with the watch I feel that I can give you a better idea of what to expect and how it works. 
DESIGN
First off the watch is big if you have a small wrist it's going to very big on you.  It doesn't weigh very much based on the size and materials you would expect it to have a bit more heft to it but it remains very light for the size.  The leather bands (I have the silver with stone grey band model) are very nice, normally I go for a metal band but when my Girlfriend order the watch for me the ver. With the metal bands and the bands themselves where only available in the US.  And at cost you $80 to buy it on its own and $50 extra to buy it with the watch now.  I have heard that you can replace the band with any standard Jewellers kit and most bands will work, supposedly the Metal pebble smart watch bands work great and are less than half the price.  The button works well and feels solid not much to be said really it fits the ascetic of the watch well.  Over all it feels like a good quality watch not a cheap plastic toy like most of the smart watches out there
Screen
I have heard online that people have complained about the low Resolution of the screen say they can see the pixels and that it should have been higher.  I don't totally disagree the Screen could be a little higher resolution but at the same time I feel that would adversely affect battery life so it's a trade-off.  As for being able to see the pixels I don't see them however you can see something that looks like pixels at the edge of the screen which may simple be a results of the slightly sloped glass at the edges.  The touch screen works great and is nice and snappy.
Android Wear
If you are looking for something that will do everything your phone does on your wrist you will be disappointed.  The purpose of the watch was to give you information at a glance or track health stats easily and it does that great.  If you have used google Now before the UI is very similar to that and works on cards that will pop up during the day and can be dismissed with a swipe.  You can also use google now to issue Voice commands to the watch to make phone calls or respond to text message, emails and most chat apps, I have confirmed reply works with, Gmail, Hangouts, WhatsApp and google messenger (text) it currently does not work with Blackberry and skype. 

The voice recognition is pretty much exactly the same as google now on your phone, when the watch face is on simple say ok google.  And then the command, set alarm for 7 am on Thursday, call Joe, send text bob "I will be there at 10"… The only issue I have run into is that with double spelling names it only works about 50% of the time on the spell you need if there is a contact in your phone you're trying to reach IE, if I call Erin, half the time it tries to call Aaron.
The only other complaint about the Voice recognition is I regards to the position of the mic which on the opposite side as the plunger/button.  This has only been an issue when wearing a suit jacket or dress shirt as it gets in the way and makes spotty to use.  It would have been better at the bottom or top of the screen.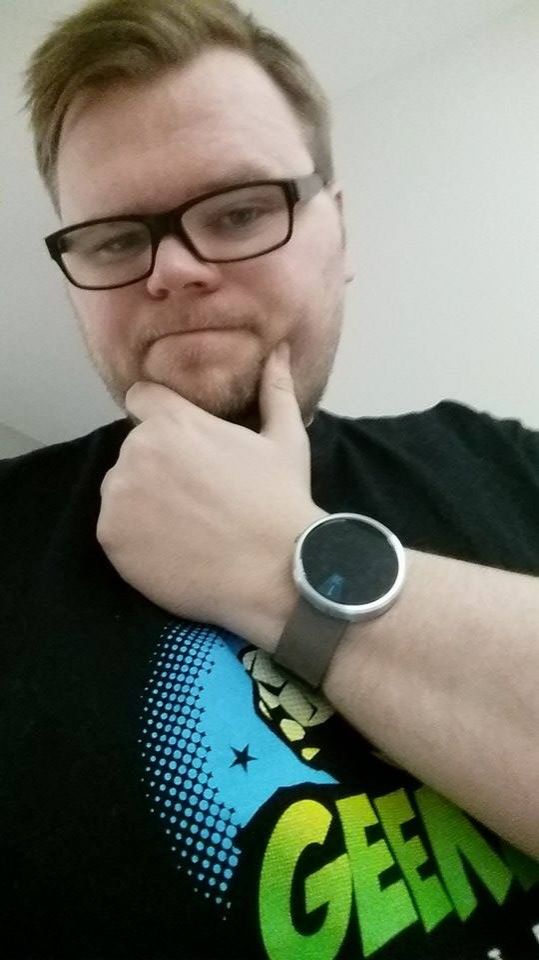 Battery Life
A lot of the concern over Smart watches and wearables is battery life.  Initially on release this was a concern and a problem as people where reporting that they would get less than a day out of the watch which I agree is unacceptable, I only received my watch about a month and a half ago so I never experienced this issue as they released an update that resolved the issue, optimizing battery use, I can get 2 days out of the device with light use with ambient mode turned off and screen on for notifications (Ever time a notification is sent the screen will turn on and display the card for the notification).
That said I only have when I have not come home as charging the device is easier than your phone., it comes with a charge cradle that you just set the watch on and it charges via induction which is a great change from the other smart watches like the gear 2 had a plastic piece that snapped on to the back then plugged into an USB cable.  While on the cradle it will change the face of the watch to show charging progress and the current time and will darken the screen to make it a good night stand clock.  Alarms will still go off while on the stand but notifications will not.
Sound:
This may be the one down side is that the Moto 360 has no speaker, all notifications are displayed on screen and vibrate the watch.  Also this means that when you get a call you only get vibration from the watch and while you can answer the call on the watch you cannot talk on it and must use the handset.  This is one feature I miss from the Gear 2 Neo.  But otherwise it's mostly not missed, anyplace that my phone sound is off the watch was anyway so not a big deal breaker for me.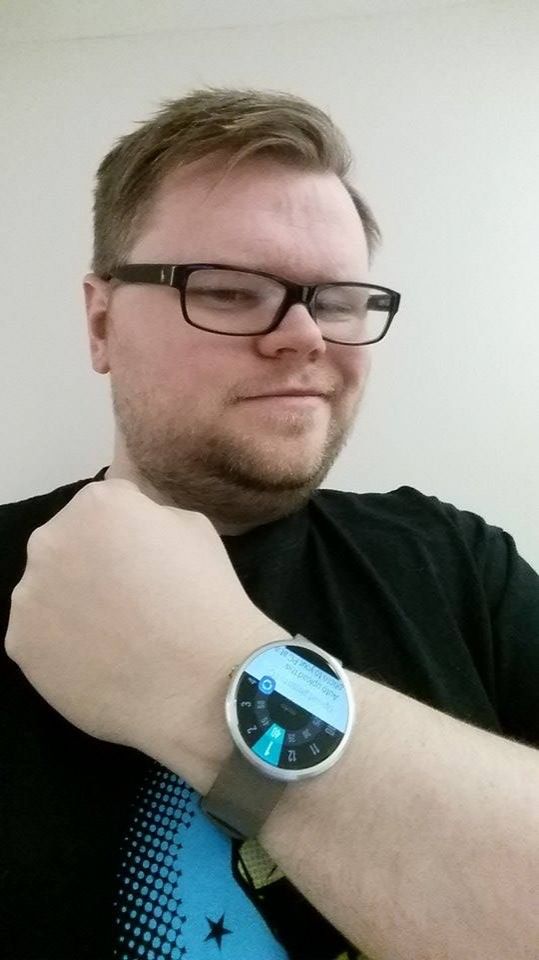 Final Thoughts:
First off I will say I love the Moto 360, its sleek, it does its job well. If you have $279.99 Cad. To spend on a watch and you're a tech type person with an newish (KitKat or better) Android phone I would recommend looking at it, having all your notifications at a glance on your wrist is great gives you the ability to dismiss and reply to things right away and as time goes on more and more useful apps are coming out. 

if you simple want the time and are looking for a mid-level piece of jewelry this might not be for you, while it does look very nice and will do more than the average watch it won't hold the status you are looking for in a time piece, and you will need to charge it pretty much every night.
This review was written after spending 1.5 months with the moto 360 since the first major update.