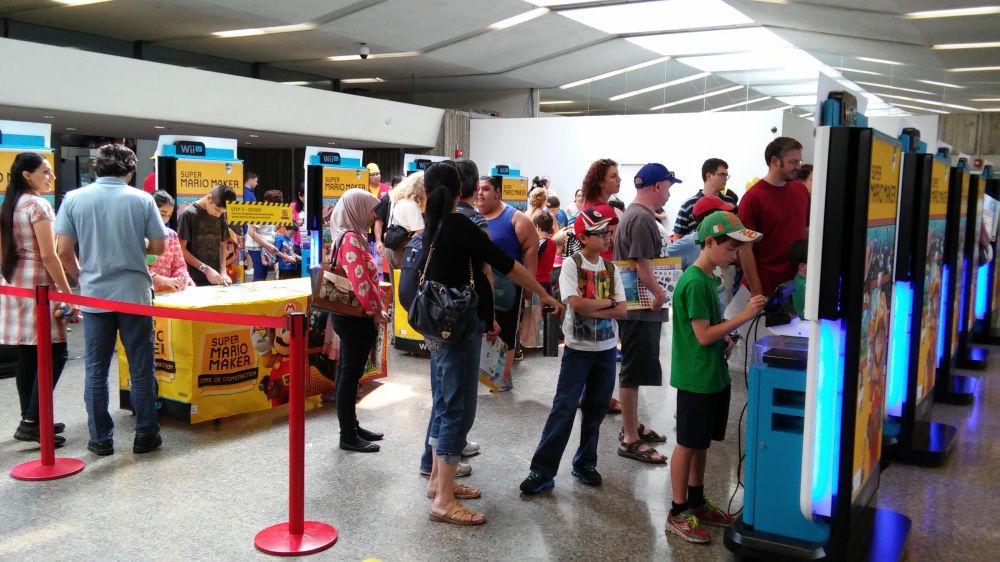 The Super Mario Maker Construction Zone event took place in Toronto at the Ontario Science Centre on September 5th during the Labour Day weekend. Hundreds of parents and excited kids stood patiently in line to play the upcoming Super Mario Maker slated for release on Wii U on September 11th.  The play area was divided into two sections: Get Inspired, enabling kids and parents to play through the game's established levels and Design, the exploration stage sparking the design creativity of players to create their own unique levels.
This event commemorated Super Mario's 30th anniversary as children were rewarded with game posters, stickers and an opportunity to take a picture with the legendary red plumber Mario.
Features of Super Mario Maker on the Wii U include the following:
• Play a near-limitless number of Mario levels created by Nintendo and players around the world.
• Create your own Mario levels by using the Wii U GamePad controller touch screen to add enemies, blocks, pipes and more.
• Break the conventions of traditional Super Mario gameplay by blending enemies, traps and items into unexpected twists, like Piranha Plant-shooting cannons, power-up-tossing Lakitus, or even Hammer Bros. riding on Bowser while bouncing on trampolines.
• Touch control, instant editing and a robust online ranking and search system makes creating, playing and sharing a seamless process .
• Switch between four distinct themes, each with different art styles and features:
• Super Mario Bros., Super Mario Bros. 3, Super Mario World, and New Super Mario Bros. U.
• Transform into different characters at random with the new Mystery Mushroom item. Expand the roster of possible characters by completing 100 Mario Challenge mode or tapping compatible amiibo.
• Tap a 30th Anniversary Mario amiibo figure to the Wii U GamePad controller to add a Big Mushroom power-up to your course!
• Each retail copy of the game will come with a special booklet that offers fun ideas for designing courses.
Highlights of the event can be found below.
(Photography by GM Staff)