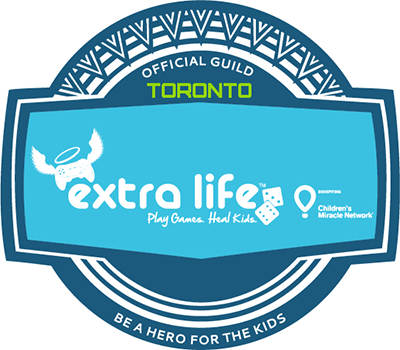 25-hour Extra Life Game-A-Thon has raised more than $22M for Children's Miracle Network Hospitals like SickKids since 2008.
On November 5, 2016, gamers from across North America are using the hobby that they love to raise funds for the Children's Miracle Network hospitals. It's all part of Extra Life, an event that challenges North American gamers to partner with their local children's hospital. Officially launched in April 2016, Extra Life Toronto proudly raises funds for SickKids Hospital.
Extra Life Toronto Gamers will converge at Raiders E-Sports Bar for this epic 25-hour gaming marathon, pausing only to caffeinate, scavenge for food and, of course, use the little gamer's room. Everyone is welcome to attend for the entire event or on a drop-in basis. There is a suggested minimum donation of $5 at the door, which includes use of all games with the exception of virtual reality headsets. Proceeds from use of VR headsets will go to SickKids.
Special guest actor Elias Toufexis, best known to gamers for his work as Adam Jenson on DEUS EX, Federico on ASSASSINS CREED and Takkar on FAR CRY PRIMAL will be on hand from 4-6pm to take pictures and chat with fans.
Nerd Block, the #1 monthly geek subscription box, has donated 200 Arcade Blocks to the first 200 people who donate $5 or more at the door on Nov. 5th. Arcade Blocks contain licensed merchandise representing all genres from movies, television, video games, internet, and more! The Riddle Room, Toronto's combo Game Café and Escape Rooms, have generously lent us use of their board game library and will have staff available to teach people how to play. $250 in Riddle Room vouchers will also be awarded. 401 Games, Canada's best source for board games, card games and sports cards, has also contributed to the lending library, and has generously donated 6 boardgame prize packs for top fundraisers and raffle winners. AND WE SAVED THE BEST FOR LAST: Our friends at the Yorkdale and Eaton's Center Microsoft stores have donated 2 Halo 5 Xbox consoles that will be raffled off at the event. The more money you raise, the more raffle tickets you get!
"Gamers are an extremely passionate group, and we're very excited to come together a s a community to do what we love and get to help so many sick and injured children," says Erin Dupuis, President of Extra Life Toronto. "Our goal as a guild is to recruit as many people as possible to participate in the Extra Life movement and to spread the word! This year we would love to raise $250,000 across Ontario with all proceeds benefiting SickKids Hospital."
Who: Extra Life Toronto
What: 25 hour gaming marathon to benefit SickKids Hospital
Where: Raiders E-Sports Centre, 49 St Clair Ave W, M4V 1L3, Toronto, Canada
When: Saturday November 5th, 2016 12:00PM to Sunday November 6th, 2016 12:00PM
For more information contact: This email address is being protected from spambots. You need JavaScript enabled to view it.