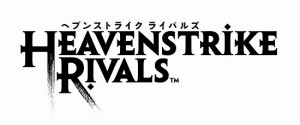 LOS ANGELES (Feb. 18, 2016) – Square Enix, Inc. today announced that the highly-rated, multiplayer tactical RPG game HEAVENSTRIKE RIVALS ® now offers more characters and quests from its ongoing collaboration with FINAL FANTASY® IV.
Marking the first raid event, the update to HEAVENSTRIKE RIVALS features FINAL FANTASY IV characters Golbez and Rubicante.  Players can join forces to defeat these strong opponents, and have a chance at obtaining Rubicante a reward.  This event will run until February 22.
Running concurrently with the raid event, a separate story quest gives players a chance to obtain the power character Yang from FINAL FANTASY IV.  This is an original story and will introduce an all-new battle map created especially for the event, which will run until February 24.  
Finally, a separate "gacha" event features Rydia and Rosa, from FINAL FANTASY IV, for players to obtain. For a limited time, players will also have the chance to obtain characters Cecil, Golbez, Kain and Edge from the previous FINAL FANTASY IV collaboration events.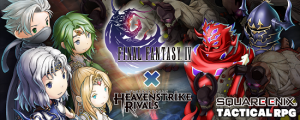 To download the game for free , visit the links below:
FINAL FANTASY IV is also available for purchase through the following links:
App Store:  https://itunes.apple.com/us/app/final-fantasy-iv/id575119311?mt=8&at=11lc5S
Google Play:  https://play.google.com/store/apps/details?id=com.square_enix.android_googleplay.FFIV_GP&hl=en
Related Links
About Heavenstrike Rivals 
In HEAVENSTRIKE RIVALS, players enter a war-torn world on the brink of extinction and embark on an epic adventure full of simple yet highly immersive tactical battles. The once-prosperous aerial kingdom of Lunnain lies in tatters, assaulted from above by the Fallen - ruthless monsters of nightmare who seek only complete destruction. But the people will not take their fate lying down, and their strike back at the heavens starts now.
Developed as a brand new IP for mobile platforms, SQUARE ENIX® has worked with UK based developers MEDIATONIC Ltd., (Amateur Surgeon) to create the game and bring the world to life. The project has had a collaborative approach, with Japan-based Yumiru Corporation supporting development and, keeping it in the SQUARE ENIX family, the game also features characters designed by Ryoma Ito (FINAL FANTASY TACTICS® ADVANCE) and music by Ryo Yamazaki (FINAL FANTASY XIV).
In HEAVENSTRIKE RIVALS, players must fight their way to the top of the game's leader boards for heavenly global domination.