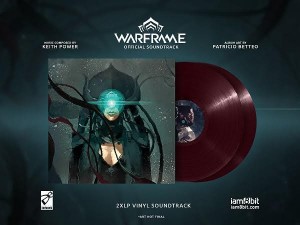 DIGITAL EXTREMES PARTNERS WITH IAM8BIT TO CELEBRATE THE UNPARALLEED SOUND AND STYLE OF WARFRAME
Pre-Order Set for 2X LP Vinyl Soundtrack and Limited Edition Artist Signed Collectible Art Prints
LONDON, ON – March  14, 2017 – Independent developer and publisher Digital Extremes, creators of the cooperative online action hit, Warframe®, is partnering with pop culture tastemakers, iam8bit, on a creative array of original art-house Warframe merchandise, available for a time-limited pre-order here, store.iam8bit.com/, starting at 7 am PST/10 am EST, Friday, March 17.
Adorned with original artwork created by celebrated Spanish illustrator Patricio Betteo, Digital Extremes has remastered 24 tracks from the original score composed for Warframe and its first cinematic quest, The Second Dream, into a 2X LP vinyl soundtrack – digital download also included with the vinyl purchase. The moody, energetic electronica style sounds come from the talented mind of Hollywood composer Keith Power (Avengers: Age of Ultron, Criminal and Hawaii Five-0) with direction and mixing by Audio Director, George Spanos and the Digital Extremes' in-house sound team.
The newly established iam8bit collaboration also brings a limited edition set of Warframe fine art prints, featuring all 32 Warframes in a stylized blend of Patricio Betteo's distinctive abstract, illustrative pieces. The art prints are offered in a 6X6 inch giclee format, printed using archival inks and acid free paper and available in blind bags of five (randomly assorted), or in a complete set of 32 for players to collect, trade, and frame. The pre-order window lasts only 31 days starting March 17; the art prints will be numbered to fulfill the quantity of orders received.
Last, the first array of uniquely styled collectible enamel pins created from the highly popular in-game Glyphs are also available for pre-order on iam8bit's online retail store, store.iam8bit.com/.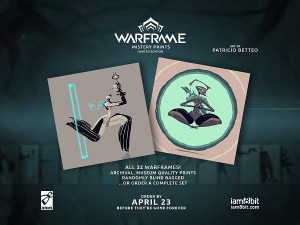 The Warframe Soundtrack includes 24 songs from Warframe and the 2015 cinematic quest, The Second Dream. The full song list features:
This Is What You Are
Hunhow
The Second Dream
Wretched Things
Ghosts of Voids
Corrupted
Derelicts
The Creeping Dark
Archwing
Wings of War
The Witches Lair
Red Broth
Origin System
Vor's Prize
Corpus Greed
March of the Moa
Our Disease
Consume Us
Grineer Onslaught
The Profit
Gene Molds
Grakata
Sentient Tombs
Rapid Adaption
Warframe boasts an active community of more than 26 million registered players. Please visit the official Warframe website at www.warframe.com to join the community and download the game for free. To keep up with the latest updates from the development team, be sure to follow Warframe on Facebook, Twitter, YouTube and Instagram