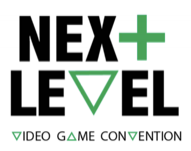 Canada's Largest Video Game Convention will take place November 10-11th
TORONTO, November 28 – Next Level Video Game Convention, Canada's premiere video game event, will debut in Toronto in 2018. Announced today, the weekend-long event will feature the top industry leaders, products and video game culture between November 10th and 11th, 2018 at The International Centre. The event is expected to be the largest of its kind in Canada.
Next Level will focus on curating the environment and atmosphere to maximize the consumer gaming experience. The International Centre has been chosen as the Next Level venue for its ability to offer more than 100,000 square feet of the latest video game technology. Attendees will have the chance to experience a wide variety of exclusive opportunities including an interactive mobile gaming lounge featuring some of the top games, a massive PC Lan Gaming community, VR/AR interactive spaces with the latest technology and multiple tournament games and gaming systems. No gaming convention would be complete without Cosplay, which will be featured as a major consumer experience during Next Level. 
There will also be platforms for major brands, indie start-ups and gaming school programs to showcase new tech, new games, and insight into the future of the video game industry. The 2018 Convention will also offer space to popular vendors to sell lifestyle merchandise, with everything from video gaming products to vintage gaming swag.
Announcements and latest information about the Next Level Video Game Convention will be released on their website, https://www.nextlevelvgc.com. 
About Next Level and Prestantia Sports and Entertainment
Next Level Video Game Convention is Canada's largest video gaming event. It will debut in Toronto on November 10th, 2018 and will bring together industry leader, products and video game culture in one place. Next Level is presented by Prestantia Sports and Entertainment. Prestantia Sports and Entertainment delivers excellence in sports and entertainment properties through event, sponsorship and athlete management. The Prestantia Sports and Entertainment roster includes incredible sports talent like tennis stars Denis Shapovalov and Vasek Pospisil, golf phenomes Augusta James and Jennifer Ha.
Follow along online:
Instagram: Instagram.com/nextlevelvgc
Snapchat: next_levelvgc