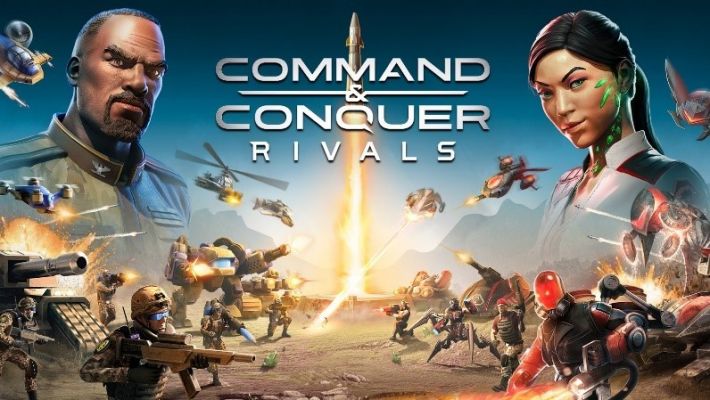 REDWOOD CITY, Calif.--(BUSINESS WIRE)--Assemble your forces, mobile commanders - Command & Conquer™: Rivals from Electronic Arts Inc. (NASDAQ: EA) announced today that Command & Conquer will launch worldwide on December 4, 2018 for Android and iOS. This is a fast-paced, real-time strategy (RTS) action game built for players on phones and tablets. Command & Conquer: Rivals will become the next official EA competitive gaming franchise to roll out a complete competitive program, including community tournaments and a championship pro scene.
In Command & Conquer: Rivals, a real-time player versus player (PVP) game, players lead their faction to victory in the war for Tiberium. True to RTS classics, preparation and planning are as pivotal to matches as tactical execution. Unlike games with "drop-and-watch" mechanics, players in Rivals maintain 100% control of their units at all times, adding immense strategy and depth to a fun, frenetic and fair gameplay experience.
"We set out to build an RTS game for mobile players that thrives on head-to-head competition and where strategy and skill matter. With continuous unit control and intense battles where comebacks are possible, Command & Conquer: Rivals delivers this and more," said Michael Martinez, Redwood Studios GM. "We've been thrilled to see the early response from players during soft launch. Player feedback has made the game stronger for our launch in December and we'll continue to work with the community as we accelerate into esports next year."
Rivals Champions, a new weekend mode available at launch, is a signature in-game competitive experience inspired by the immensely popular FIFA Ultimate Team Champions in FIFA and will serve as the first step in working with the community to launch a multi-continent esports program in 2019. In this mode, players will go on a run of battles, competing in a unique matchmaking pool - competition is segmented by rank to ensure players of all skill levels can thrive and win. The better they perform, the bigger the rewards. Players can also make a name for themselves atop the Rivals Champions leaderboards and distinguish themselves for higher levels of competition.
"Rivals is competitive to its very core," said Evan Denbaum, Command & Conquer: Rivals Competitive Gaming Commissioner. "We've been working non-stop to create the best-possible in-game experiences no matter what your skill level, and Rivals Champions is just the beginning. Most importantly, we'll be listening to our players and their feedback as they jump in, and we'll work together with the community to build a full-scale esports program."
There's still a chance to join in before launch. Pre-register today on Google Play and get the chance to play by visiting https://www.ea.com/games/command-and-conquer/command-and-conquer-rivals. Players who pre-register will also receive a special, limited edition bundle to begin commanding their units, available at worldwide launch.
For more information and to stay up to date on the latest news, find us here on the Command & Conquer: Rivals channels and forums on Twitter, Discord and Reddit..
About Electronic Arts
Electronic Arts (NASDAQ: EA) is a global leader in digital interactive entertainment. The Company develops and delivers games, content and online services for Internet-connected consoles, mobile devices and personal computers. EA has more than 300 million registered players around the world.
In fiscal year 2018, EA posted GAAP net revenue of $5.15 billion. Headquartered in Redwood City, California, EA is recognized for a portfolio of critically acclaimed, high-quality brands such as The Sims™, Madden NFL, EA SPORTS™ FIFA, Battlefield™, Need for Speed™, Dragon Age™ and Plants vs. Zombies™. More information about EA is available at www.ea.com/news.
Command & Conquer, Maxis, EA SPORTS, Battlefield, The Sims, Need for Speed, Dragon Age, and Plants vs. Zombies are trademarks of Electronic Arts Inc. John Madden, NFL and FIFA are the property of their respective owners and used with permission.