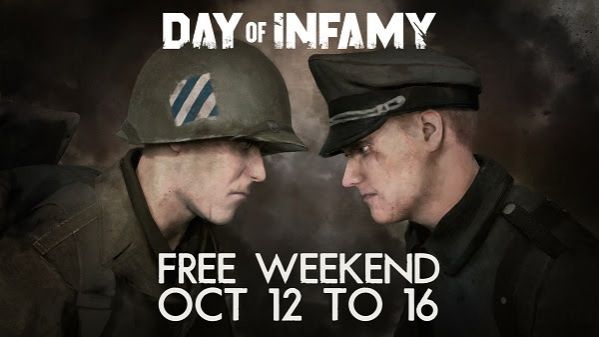 WWII Shooter Day of Infamy Announces Steam Free Weekend, New Content Update Steam Free Weekend Oct. 12-16
After over a billion shots fired, 7 million objectives captured and 50 million player deaths, the largest war of all time continues to rage on! Day of Infamy, the hardcore WWII shooter from the creators of Insurgency, is on the hunt for new recruits to join over 275,000 existing players on the battlefield during their upcoming Steam Free Weekend.

The Day of Infamy Steam Free Weekend starts at 10 a.m. PDT / 6 p.m. BST on Thursday October 12th and runs through until 10 a.m. PDT on Monday.
Players can expect to experience hardcore World War II First-Person Shooter combat in both player versus player and cooperative game modes, with an emphasis on teamwork-oriented objectives and high lethality gunplay. Call in fire support, secure objectives, and push the line forward using more than 60 iconic WWII weapons, nine specialized player classes and 33 historic units of the US Army, British Commonwealth, and German Wehrmacht.

The Free Update includes:
New Tutorial Mission "Shooting Range" – Ahead of a wave of new players, New World have created a special training map set in the rural English countryside, designed to help new players feel more comfortable with the game's weapons and classes before they head out to the battlefield.
New Map "Brittany" – The French region of Brittany was the backdrop for a bloody siege weeks after the D-Day landings. Players will fight through the map's rail-yards, bombed-out buildings and fortified bunkers. Brittany originally started as a community map based on the French town of Brest in the Brittany region. After placing 3rd in the Day of Infamy mapping contest, our development team have worked hard with the level designers to flesh out the map, and are proud to now include it as official game content.
Double Experience Points – To help new recruits quickly move up through the ranks we're rewarding players with double experience points through the weekend to help them unlock any of the 30 different playable units.
"We are thrilled to have the opportunity for a new wave of players to discover Day of Infamy. Our indie WWII shooter is leading a revival of the genre that is often overshadowed by the big AAA franchises. Hopefully players will recognize the passion and talent of our modest team to craft a heart-pounding experience that is truly authentic." —Andrew Spearin, Creative Director - New World Interactive

During the Free Weekend, the team at New World will be holding daily livestream events on twitch.tv/NewWorld, complete with prize giveaways, special guests and open Q&As. Fans are encouraged to stay tuned to Day of Infamy's Twitter and Facebook account for more information.