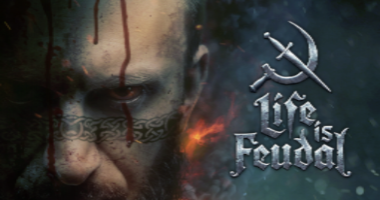 RAISE YOUR AXE AND PREPARE TO DOMINATE THE LAND AND BUILD A MEDIEVAL KINGDOM WITH YOUR FRIENDS
Life is Feudal: MMO Prepares for Mid-November Open Beta
October 19, 2017 - After a series of successful Closed Beta tests, Life is Feudal: MMO, the social-focused medieval life simulation for Windows PC from Bitbox, will be launching in Open Beta on November 17. In Life is Feudal: MMO, players will explore and conquer a realistic medieval world, starting out as lowly peasants, and working their way to the "top of the food chain", through crafting and construction. It's a dangerous world out there, and players shouldn't expect to go it alone, as the most successful medieval explorers are those who team up with others, form guilds and contribute to a fully functioning feudal society. Some will be butchers, others, bakers, and a skillful few will become knights...or even kings!
Life is Feudal: MMO will launch its Open Beta on November 17, 2017 and will come in three different starter packages, available for $29.99USD, $39.99 and $99.99 depending upon content. More info is on the game and the package contents is available at www.lifeisfeudal.com.
Life is Feudal: MMO is a large-scale group-focused RPG, that places players in a highly realistic, non-fantasy, medieval world where danger lurks around every corner. Players need to work as a team to gather resources, build shelter, craft tools and form a fully functioning feudal society in an unforgiving archaic world. Players may find a place in society as a vassal, a knight, a farmer or even royalty, as their guild builds and expands their medieval societies.
While players may start their adventures alone, as they gather and craft supplies needed to make it to the next day, they will quickly meet up with others to form groups, then guilds, and finally work their way up to complete medieval societies and nation-states. Life is Feudal: MMO is a realistic social experience, where the best way to thrive in the world is to work together and build a fully functioning society, where everyone has a place, from the most basic hunters and gatherers, to farmers, soldiers and civic leaders. There's a place for everyone in Life is Feudal: MMO, and a world ready for them to explore!
Sign up for the Life is Feudal Beta today, visit play.lifeisfeudal.com. For more information, 'Like' it on Facebook and follow the game's development on Twitter @LifeisFeudal for all the latest developer updates and news.