New Toshiba-OCZ SSD Solution Features Excellent Balance of Performance and Endurance for Mainstream Systems
SAN JOSE, Calif. — September 13, 2016 — Toshiba America Electronic Components, Inc. (TAEC), a committed technology leader, today announces the launch of the OCZ VX500 SATA solid state drive (SSD) series. Aimed at mainstream desktop and notebook users looking to migrate away from primary hard disc drive (HDD) usage, VX500 SSDs feature superior endurance ratings[1] and provide a faster, more responsive PC experience thanks to well-balanced read and write performance[2].
Backed by OEM-level testing that provides validated reliability and built with the latest Toshiba MLC NAND flash, the Toshiba OCZ VX500 SSD series delivers endurance ratings of 74 to 592 terabytes written (TBW)[3], making it suitable for write-intensive applications such as content creation, revolving media/game storage, or as a scratch disk.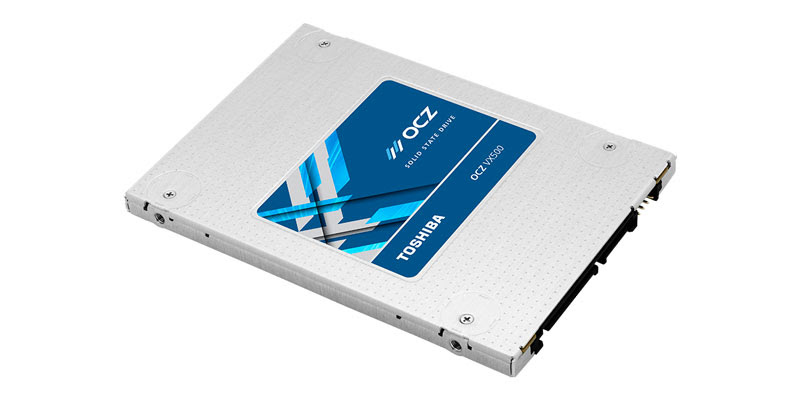 The Toshiba OCZ VX500 series is designed to thrive in mixed workload environments representative of mainstream users who need increased performance[4] to take their everyday computing to the next level. With sequential read/write speeds of up to 550 MB/s and 515 MB/s, and random read/write performance of up to 92,000 and 65,000 4KiB[5] input/output operations per second (IOPS)[6], VX500 SSDs can significantly boost system productivity compared to HDD storage. Users can also count on enhanced durability and power consumption over their hard drives, as well as quality lightweight housing weighing in at only 54g.
"Delivering over 3X the endurance of TLC-based SSDs[7], the Toshiba OCZ VX500 SSD series ensures users who need increased product longevity aren't neglected in the wake of a value-oriented market," said Alex Mei, VP of Marketing and GM of Etail/Retail SSDs at Toshiba America Electronic Components, Inc. "The VX500 series was designed for today's DIYers looking to upgrade from traditional hard drives with a solid state solution that thrives in the wide spectrum of mainstream oriented mixed workload applications."
The OCZ VX500 SATA SSD series will be available in four different capacities ranging from 128GB to 1024GB[8] and will be backed by a 5-year Advanced Warranty Program[9], created to provide reliable customer service and mitigates the frustration surrounding warranty and support claims. Additionally, each VX500 SSD comes bundled with Acronis® True Image™[10] cloning software for users to easily transfer their data to the new SSD and enjoy a smooth upgrade experience.
[1] Compared to current TLC-based SSDs

[2] Read and write speed may vary depending on the host device, read and write conditions, and file size

[3] Definition and conditions of TBW (Terabytes Written) are based on JEDEC standard; JESD218A, February 2011, and defined for the service life.

[4] Compared to current TLC-based SSDs

[5] A kibibyte (KiB) means 210, or 1,024 bytes, a mebibyte (MiB) means 220, or 1,048,576 bytes, and a gibibyte (GiB) means 230, or 1,073,471,824 bytes

[6] Based on the 1024GB model, see ocz.com for full specifications

[7] 592 TBW vs. 150 TBW (leading TLC SSD based on 2016 sales volume)

[8] Definition of capacity: Toshiba defines a megabyte (MB) as 1,000,000 bytes, a gigabyte (GB) as 1,000,000,000 bytes and a terabyte (TB) as 1,000,000,000,000 bytes. A computer operating system, however, reports storage capacity using powers of 2 for the definition of 1GB = 230 = 1,073,741,824 bytes and therefore shows less storage capacity. Available storage capacity (including examples of various media files) will vary based on file size, formatting, settings, software and operating system, such as Microsoft Operating System and/or pre-installed software applications, or media content. Actual formatted capacity may vary.

[9] Limited Warranty, full terms and conditions available at https://ocz.com/us/support/advanced-warranty

[10] ACRONIS AND TRUE IMAGE ARE REGISTERED TRADEMARKS OR TRADEMARKS OF ACRONIS INTERNATIONAL GMBH OR ITS AFFILIATES IN THE UNITED STATES AND OTHER COUNTRIES.