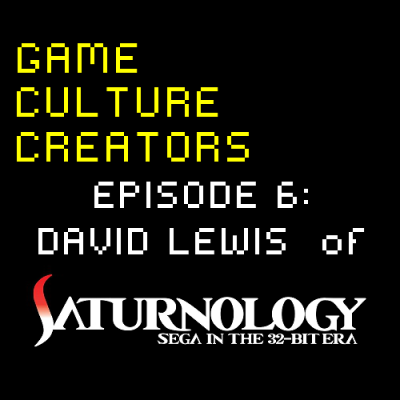 David Lewis loves him some Sega Saturn, so much that he made a show about it! While slowly going though the system's gaming library and detailing the hidden gems to be found, he also hosts a racing game themed show called Davetona. Listen in on our conversation about the show's origins and more in this episode of GCC.
Episode Produced by: Podcast Rocket
Now, Get your Podcast Edited Too!
https://www.fiverr.com/podcast_rocket/professionally-edit-and-enhance-your-podcast-audio
David Lewis' YouTube page!
[Song: "Spirit Square" by Disasterpeace (Rich Vreeland) used with permission.]
https://soundcloud.com/dzasterpeace
Buy this track! http://music.disasterpeace.com/album/neutralite
[End theme: Silver Surfer NES soundtrack by Tim and Geoff Follin]
Feedback? Hate mail? send it to This email address is being protected from spambots. You need JavaScript enabled to view it.!
Click to follow @Modern_Robot on Twitter
Gear used:
AKG Perception 100 Large-Diaphragm Condenser Microphone
Blue Icicle XLR to USB Mic Converter/Mic Preamp
Sony MDR7506 Professional Large Diaphragm Headphone
Sound Forge Audio Studio 10.0
Audacity 2.0.5