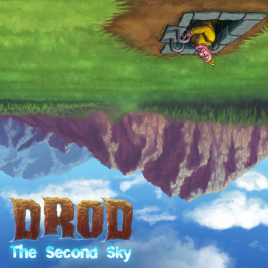 Caravel Games Announces DROD: The Second Sky Available for Pre-Order
Celebrating over a decade of DROD, TSS Launches July 1 for Mac, Win, Linux!
June 24, 2014 - Caravel Games' (www.caravelgames.com)  indie "DROD" puzzle-dungeon crawler franchise has been in development for over a decade and seen numerous releases.  Caravel's fifth major DROD title, "The Second Sky", is available for pre-order and will be released on July 1st for Mac, Windows, and Linux. DROD: The Second Sky is also available on Steam Greenlight at http://steamcommunity.com/sharedfiles/filedetails/?id=93828972
 
DROD is a unique turn-based dungeon crawler played on a 2-D grid.  It is best described succinctly as "Zelda chess."  Campaigns are comprised of a series of interconnecting rooms and levels.  Each area is a unique, hand-crafted puzzle that you solve by clearing out all the monsters while avoiding a series of deathtraps.  This game is designed as a tremendously rewarding experience for the hardcore gamer, especially geared toward avid puzzle solvers and dungeon delvers.
"The Second Sky" is the epic conclusion to the story of Beethro Budkin, professional dungeon exterminator.  Guide Beethro as he goes up against the underground Rooted Empire in a race against time against the ominous Grand Event. Beethro is always fond of saying "there is no problem that can't be solved with a really big sword," but he will need to use a variety of fresh new weapons and tactics to win the day this time against a dire threat.
 
TSS pushes the unique DROD puzzle formula to the limit.  TSS introduces several novel game mechanics and improves production values in every way over previous titles.  An integrated online Hints-and-Solutions system allows players to easily look up all available help ever given for that puzzle, and if they are the first, quickly and specifically ask what they need with the benefit of customized, labeled room diagrams.  TSS features a series of overworld maps that allow the player to quickly travel to multiple game areas.  Twelve environmental terrain styles and soundtracks in all, with realtime lighting and a range of environmental effects, enhance the puzzle-solving experience.
 
All-new puzzle elements and enhanced level crafting abilities add a huge amount of depth over previous offerings in the franchise.  An array of new weapons are a game-changer that force the player to reimagine how to tackle every imaginable puzzle.  DROD has an incredibly active player community that has published over 25,000 puzzle rooms available for free download.
 
During development, TSS brought in a large group of old and new talent. The puzzles and world have been crafted by a team of established master level designers from the Caravel community, with story conceived by DROD creator Erik Hermansen himself, beautiful new and improved game illustrations by artist Alex Kowalczyk, and over two hours of new music by video game composer Emmett Plant and synthpop artist Jon Sonnenberg.  Explore the world of DROD in this epic puzzle adventure by Caravel Games.
 
For more information on The Second Sky visit Caravel Games at  http://www.caravelgames.com/Articles/Games_2/TSS.html.