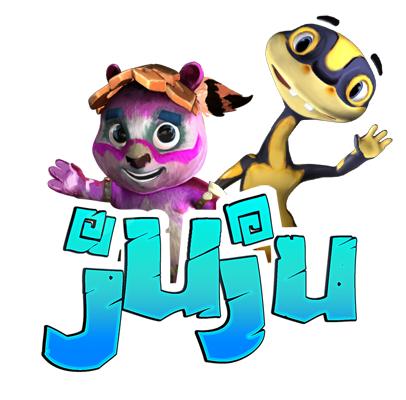 You really can't help but smile when watching the new trailer for JUJU, the upcoming platformer starring a shamanistic panda and his lizard buddy on a quest to save the world.
August 5, 2014 – Run, bounce, and chant with the shaman panda, Juju, and his lizard sidekick, Peyo, as they embark upon a dangerous journey to rescue Juju's father and save the world from an ancient evil. See how it all begins in the new trailer for JUJU.
Watch the trailer:
JUJU is a classic-style platfomer filled with wildly imaginative worlds, huge boss battles, and secrets to uncover in every level. The unique cooperative gameplay allows for two players of different skill levels to play together, making it perfect for all ages, including speedrun and hardcore challenges for the veteran gamer.
Take control of Juju, a young, shaman panda on a quest to save his father, Jambee, who has been kidnapped by the wicked Calypso. But, moments before being snatched away, Jambee passes his magic mask to his son, instilling Juju with the power to fight back against the evil that has been unleashed. With the help of his lizard friend, Peyo, Juju will journey to rescue his father and bring peace once again to the world.
Website http://www.jujuandpeyo.com
Flying Wild Hog is an independent game development studio established in 2009 in Warsaw, Poland by Tomek Baran, Michał Szustak and Klaudiusz Zych. Flying Wild Hog previously released Hard Reset, Hard Reset: Exile and Shadow Warrior, and is currently working on games for PC, PS3, PS4, Xbox360, Xbox One, iOS and Android.