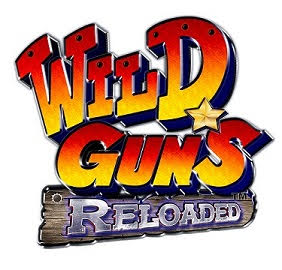 WILD WEST SHOOTER WILD GUNS RELOADED ARRIVES ON PLAYSTATION 4 TODAY IN NORTH AMERICA & EUROPE
Clint And Annie Are Back To Save The Wild West With All-New Characters, Levels, and More!
Burlingame, CA. – December 20, 2016 – Natsume Inc., a worldwide developer and publisher of family-oriented video games, in partnership with Natsume Atari Inc., today launched Wild Guns Reloaded for the PlayStation 4. The classic fan-favorite now features new playable characters, weapons, stages, and enemies, plus an all-new co-op mode, where you can play with up to 4 players! The game is available digitally and also has a limited physical release (North America only), and is rated E10+ by the ESRB. Wild Guns Reloaded is being offered on the Natsume Amazon store, and will come with a limited edition retro Wild Guns logo keychain.
Clint and Annie are back in this addicting sci-fi Western arcade-style shooter, along with two new characters, Bullet and Doris, to join in the action. Play single-player mode with your favorite character, or play with your friends in the frenetic, faced-paced action of co-op mode! Whether they're chucking grenades, taking out snipers, or taking down bosses, players will need to use all they've got to escape an onslaught of bullets!   
"It was important to us that this wasn't simply a port of the cult classic, but rather a modern update that keeps the same concept, style, and setting that was so beloved in the original.  We have added two entirely new – and some of the most inventive – characters to the experience along with a variety of updated features," said Hiro Maekawa, President and CEO of Natsume Inc.  "This is the perfect retro-classic game to release in celebration of the Wild Guns franchise."
A PlayStation theme is also available for Wild Guns Reloaded for $1.99 USD.
About Wild Guns Reloaded
Wild Guns Reloaded is a fast-paced arcade-style shooter, mixing the Wild West with steampunk. Play as Clint, Annie, Doris, or Bullet the dog with his sentry drone. Grab some friends and play together for some four player action! Each character can jump, dive, and roll to get out of the way of the barrage of bullets enemies let fly – or shoot them down with their own gun!
Two new characters, each with their own weapons and tactics!
Up to 4 players!
Online rankings!
Classic and NEW Stages!
NEW Boss Enemies and Special Weapons!
Players can follow the latest news for all of the beloved Natsume franchises at www.natsume.com and by scooping all of the latest Natsume updates, contests, screen shots and more at www.natsume.com/facebook and www.twitter.com/natsume_inc.